Most of the time I write about building Lego Technic. Ok, that's not strictly true, most of the time I write about buying Lego Technic, but given that I'm pretty much up to date on the stuff that's available, rest assured there will be considerably more on the building front in future.
In fact, I have a build planned for this weekend, of the 9392 Technic Quad Bike. Watch this space!
But while I mostly spend my hard-earned pennies on Technic, I do keep an eye on what else is going on. For me, the most interesting thing in the next few days will be the launch on August 1st of the co-creation model 41999. This, as mentioned previously, is the 9398 Technic 4x4 Crawler with a re-designed body on top of the original chassis. Limited to 20,000 units worldwide, I shall be sitting up at midnight on Wednesday to get my order in.
August 1st also sees the official release of the new Technic range, despite the fact that Tesco and a few other retailers seem to have been selling them for about a week now. With one eye on my wallet, I'm going to wait and see if John Lewis sell them.
Anyway, I suspect I'll be banging on about them at great length in the days to come, so enough about that now.
(Although having come back to this 24 hours after I wrote the above, the new Technic sets (along with a host of other new stuff) are now available on Lego's site. And some people report that they've been able to buy 41999 in the Lego stores! There had better be one left on Wednesday night!)
But (finally) getting away from Technic, one of the most anticipated, discussed and opinion dividing sets of recent times also arrived earlier than the expected August 1st launch date. The 21103 Cuusoo (1) Back To The Future DeLorean Time Machine, is, to anyone who went anywhere near a cinema in the 1980's, a bit of an icon.
Well this is the set that the team submitted as a proposal.
The original design, submitted to Cuusoo
And this is what finally rolled off the production line.
The set that finally hit the shelves this month
Thousands threw up and their hands in despair and said 'What the hell have you done to the bonnet?' I was one of those who thought that the set had fallen out of the ugly tree and had hit every branch on the way down.
First off, I can see why they did it. Because the set is more than just the one version. It's been designed so that you can recreate the three different incarnations of the DeLorean that feature in the film trilogy. And in order to do that, you needed to be able to modify the bonnet.
And second… that photo on the box lid is bloody awful! The shadows that are created make the bonnet look ten times worse than it actually is. I have to say, now that I've seen it 'in the plastic', I'm getting rather tempted…
The finished (Mk I) model
However, I should have been a bit quicker of the mark. There's a printed tile inside the car, that should read 'Shield Eyes From Light', but in fact has a typo, and reads 'Sheild...'.
This has now been spotted, and 'a fix is on the way'. In addition, it's been pulled from the Lego website.
I suspect I know which will be the valuable ones in the future…
The other set that caught my eye is a different kettle of fish entirely.
For a while now, Lego have been running an Architecture line. These are replicas of famous buildings around the world, such as London's Big Ben (2), the Guggenheim Art Museum in New York, the Brandenburg Gate in Berlin and the Sydney Opera House.
I've looked at some of these (the Guggenheim and another of Frank Lloyd Wright's designs, the 'Fallingwater' house, are particular favourites), and they are beautiful sets.
So when I saw mention of a set called 21050 Lego Architecture Studio, I assumed that as part of the Architecture Series, they'd made a set of a famous Architecture studio.
It's a beautifully designed, beautifully packaged set. It comes with a book that would grace coffee tables anywhere. It consists of just over 1200 pieces, almost all of which are white.
(It's also pretty expensive, but I'll let that slide for now.)
Basically, it's a set for budding architects.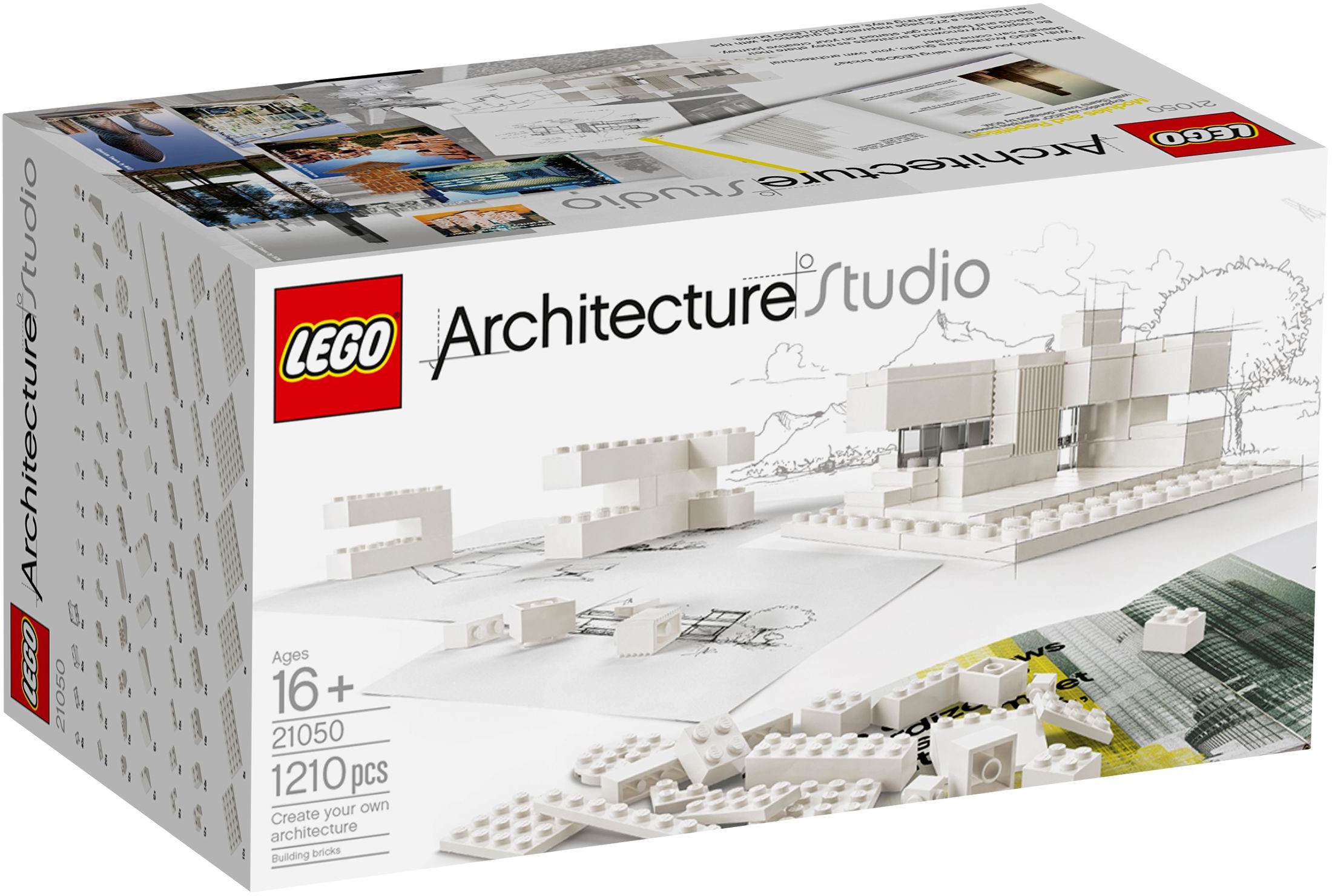 The 21050 Lego Architecture Studio
I want one of these, very badly. I'm not entirely sure what I'd do with it, but I know I need it.
Trouble is, I can't have one.
At the moment, it's only available from the Lego USA site. I fired off an email to Lego UK, asking if it was going to be released over here, and if not, could I get one from the US?
"Can't tell you, it's a secret!" they sort of said, in answer to my first question. And a flat out 'No!" to my second.
So I'll either have to hope it gets released over here, pay through the nose on eBay or the like, or convince Mrs Boo that we need to go to New York.
Bizarrely, option 3 is probably my best bet!
(1) When I first heard the term Cuusoo, I had to go and look it up. It's a Japanese company that works with the Lego Group. In Japanese, Cuusoo roughly translates to 'wish something into being'. In a nutshell, it means 'You submit a design to the website, the public vote on it, and if your design gets more than 10,000 votes, a Lego panel decide whether to use your idea as the basis for a production set'.
(2) Yes! I know Big Ben is the bell. It's in the Elizabeth Tower in the Palace of Westminster. But rightly or wrongly, everyone looks at the the Tower and thinks 'Big Ben'.