Some time ago, I mentioned that I'd developed a bad case of collectivitus. It appears that once infected, you can keep the disease at bay, but you can never be truly rid of it. It comes and goes - sometimes you're free of it for a while, sometimes you've only been clean for a matter of days, when it strikes again.
As seen in a recent entry, I've had a bit of a splurge on the buying front recently, and once I was done, I figured that would probably be it for a while.
But of course I reckoned without August…
Well I didn't. I knew perfectly well that August was coming. It comes every year, otherwise there would be an awkward gap between July and September, and 8.3% of the population would complain that they'd missed their birthday. (1)
But August brings with it the new wave of Lego releases. I'd been so caught up with trying to make sure that I got a 41999 Ltd Edition 4x4 Crawler, that I almost forgot that there were four new Technic sets out too.
So it was that while I was browsing the Lego site on July 31st, I was nearly taken by surprise when I clicked on the Technic theme, expecting to see the same sets that are always there, and lo and behold! The new stuff was in!
However, what I was completely blindsided by, was the big flashing ad on the front page, saying that Mindstorms EV3 was available for pre-order, and would be shipping on September 1st.
Now that I had forgotten about.
And will have to forget about for a while longer. (2)
Anyway. Last Saturday was an AFOL day, (3), and thanks to a timely call to the Watford store, branch manager Eamonn (a fine chap, although he looks like he should still be at school. Maybe they're like Policemen, and you know you're getting old when all the Lego employees look young) said he'd put a Crawler aside for me, as there was no way I was going to get there on the 1st, and judging by the forum chat, they were going to be far more popular than anyone thought.
So, up and out at 7.15 - which unless we're going on holiday or there's an earthquake, is unheard of on a Saturday morning - and off to the Watford Lego store. There were one or two others around, and bang on 8.00am, the shutter rolled up and in we went.
I have to hand it to the staff, if I was at work at that time, I'd be barely able to remember how to stand upright, but they're a bright, breezy and cheerful bunch and we were welcomed in. I had a chat with a couple of them and then went off to get my first proper look at the new Technic stuff.
And I couldn't help but notice the pile of Cuusoo 'Back To The Future' DeLorean's…
The Technic was worth waiting for, and I grabbed the two smaller sets. One, the 42001 Mini Off-Roader, is a dune-buggy sort of thing - palm-sized like the trucks that I built a while back, while the 42005 Monster Truck is a 329 piece mid-sized set with a smallish truck body on a ridiculously large suspension set up.
The Technic 42001 Mini Off-Roader - will fit in the palm of your hand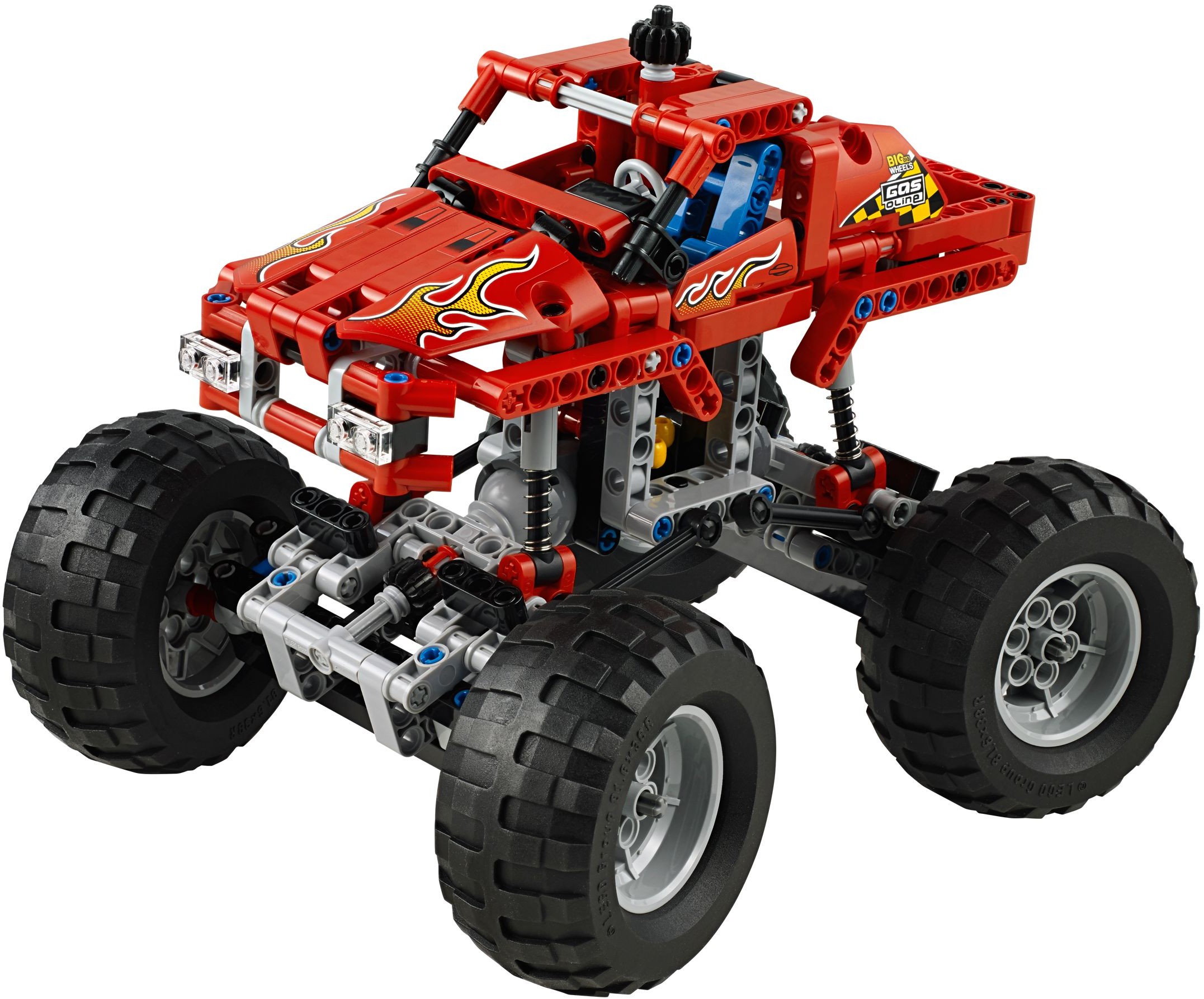 The Technic 42005 Monster Truck - will not fit in the palm of your hand unless you have freakishly big hands
And talking of trucks on crazy suspension, here comes Eamonn from the stockroom with my Crawler!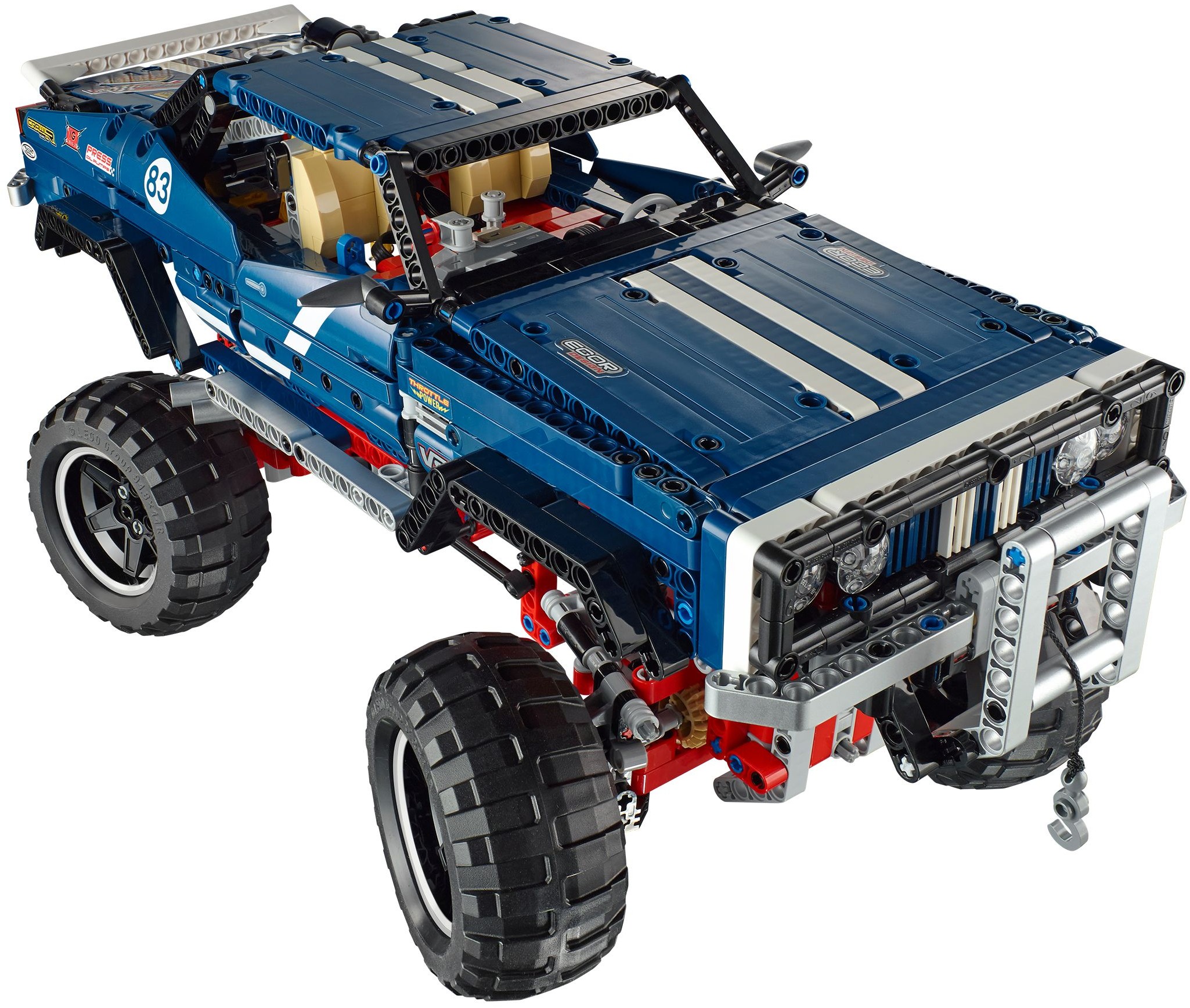 The 41999 Crawler. Woo. And indeed, hoo!
It's an eyecatching thing. Typically, a Technic set comes in a box with (unsurprisingly) a picture of the set on the front, and maybe a few smaller pictures showing special features like pneumatics or power functions.
But this one? This is classy! The bodywork of the new Crawler is in a previously unseen (4) petrol blue colour, and there are a pair of white stripes running the length of the vehicle.
This has been replicated on the box, and boy does it look good. (5)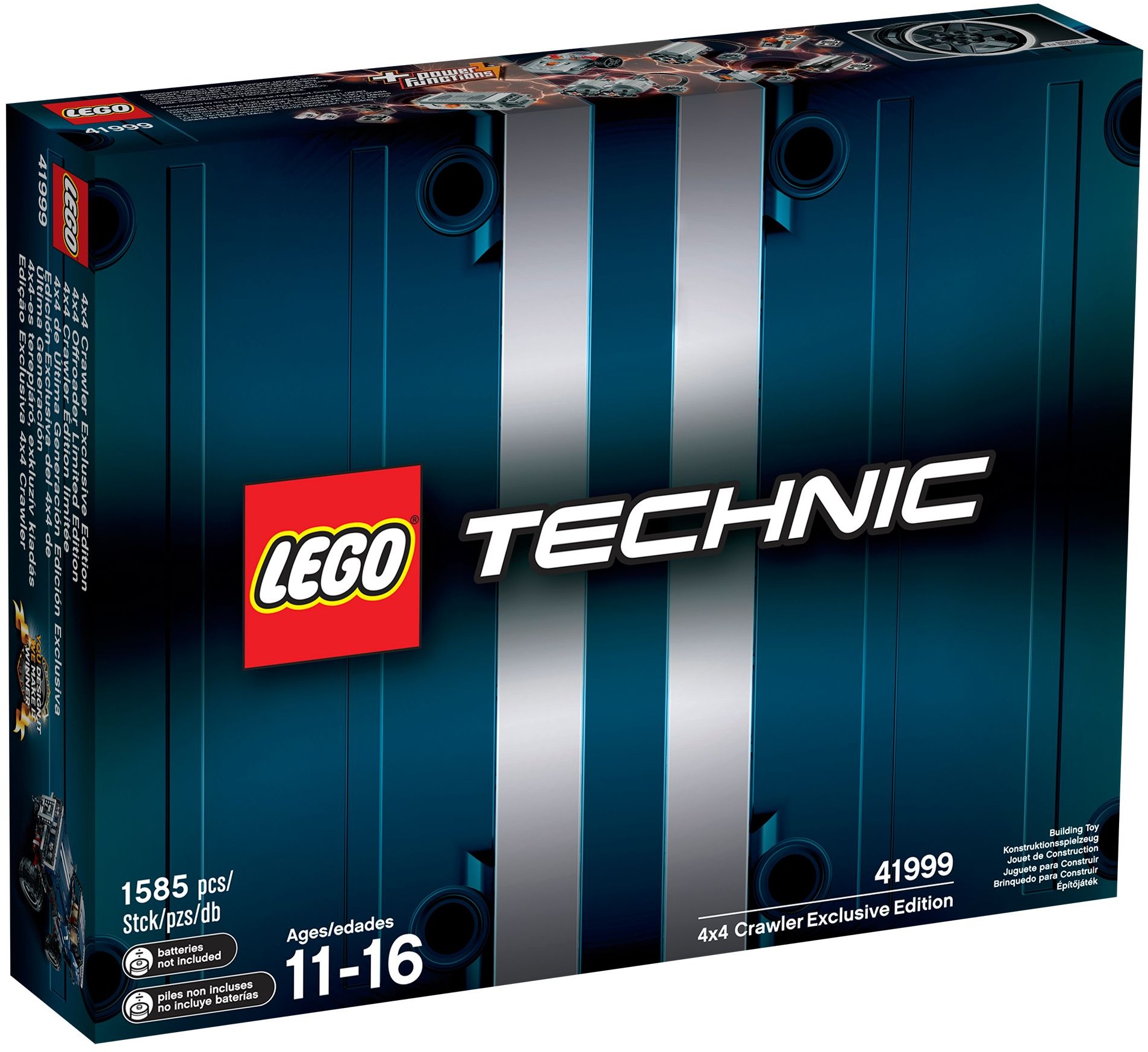 As I made my way up to the checkout with my two Technic sets (6), I passed the DeLorean again. Might as well have a look…
Let's face it - it's not the prettiest set you're ever going to see. But it is BttF. It's a great film. It's a great car. It's £35.00.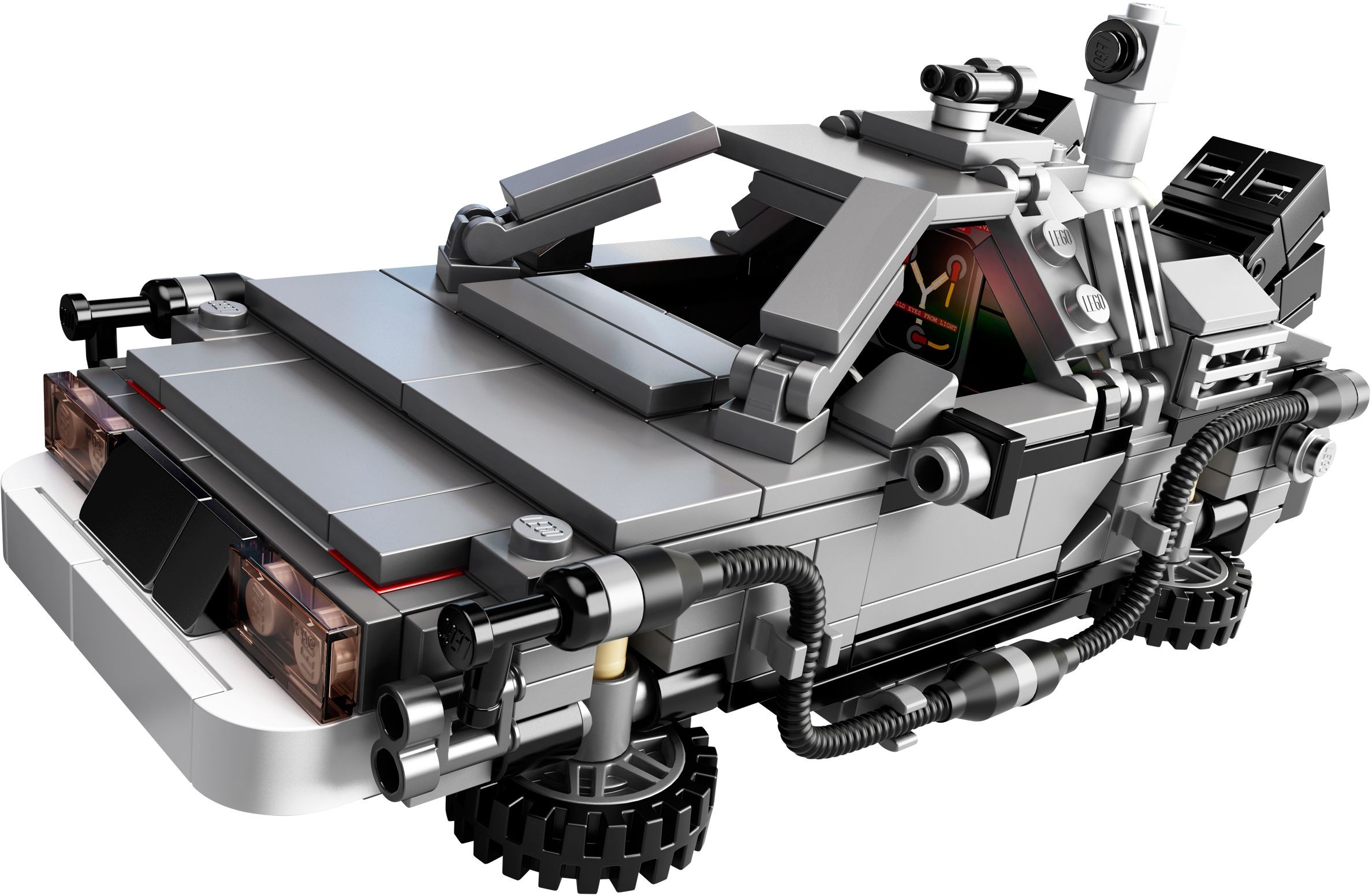 Who says nostalgia ain't what it used to be?
Reading the Brickset forum a few hours later, it looked like several other Bricksetters arrived after I left. But once I'd bought what I came for, there's only so long you can hang around in a toyshop without looking a little bit weird, so I picked up my bright yellow bag of plastic goodness, headed back to the car and went home.
Mrs Boo had surfaced by the time I got back, and good-naturedly shifted off the dining table with her mug of tea while I sat down, catalogued the new purchases and photographed the boxes. (8)
I shall be stripping down the Quad bike over the weekend and building (and doing a write up of) the 'B' model, but once that's done, I think I'm going to take a short break from Technic and build that DeLorean.
Now where did I put my bodywarmer...?
/goes off to find some Huey Lewis & The News
(1) Are birthday's spread out equally across the year? Where's a statistician when you need one?
(2) Mindstorms EV3 is £299.99, which even for a child-free, non-smoking, non-drinking stay-at-home like me, is a lot of money. Particularly when you've just had to pay out a huge sum of money to have the bodywork on your car repaired because some lowlife scumbag creased our door. I could have understood it if I had been on the mean streets of London, but this was at a County gardening show in Malvern. You're all supposed to be decent upstanding citizens who drink organic tea and listen to the Archers. Not do hit and runs on other people's cars without leaving a note to apologise!
(3) There are strict rules about AFOL days - a bit like Fight Club, the first rule of AFOL day is you don't talk about AFOL day.
(5) Apologies for getting excited about a cardboard box. I don't get out much these days.
(6) There are, of course, two more Technic sets. The 42008 Service Truck, and the taking-the-crown-from-the-Unimog-for-the-Technic-set-with-most-parts 42009 Mobile Crane Mk II. However, between them, these two are £250. I fervently hoped that John Lewis were going to stock these so I could pick them up with staff discount. A few days later, and bingo! There they were. They're going to have to wait a while though. 75% of a lot is still a lot.
(7) And that lack of willpower cost me £8.75. A couple of days later I was in Peter Jones, and there it was sitting on the shelf. That'll teach me.
(8) No, I'm not sure why I do this exactly. It's an extension of the 'blokes like making lists' thing, I guess. I just like cataloguing things.
Ask me about my CD collection sometime...