As previously mentioned, the Lego Watford store were having a three-day, Grand Opening Event back in February, with exclusive freebies each day. I'd skipped the Thursday, partly through having to work, and partly through not being that fussed about a Lego T-Shirt. But I'd gone along on the Friday and been quite stunned at the size of the crowd. Purchases under my arm, I'd made my way home with the Friday free gift, a much coveted 'Lego Store model'.
So on day three, the Saturday, I made a point of getting up a bit earlier. I had the M25 to myself for the most part, and the emptiness of the Watford shopping centre car park signified that most right minded people were still in bed.
I still wasn't the first though. Sitting on the ground outside the store was Jo from the day before, with another girl I hadn't met. And a few minutes later, Drew arrived.
We sat on the floor and had a chat, the conversation turning to the fact that a number of the Lego store models from the Friday had hit Ebay by late afternoon, with going prices in the region of £60! I guess if you don't really want it, then it'll pay for something you do...
Time passed, the queue grew and some bleary-eyed staff turned up for what was presumably going to be another busy day!
As the doors opened, we ambled into the shop in an vaguely orderly fashion, and each headed for the shelves that called to them most. Me, I was back to the Technic again. I'd studied the LEGO website and various review sites overnight, to decide what to pick up today, on the assumption that they wouldn't have managed to get any helicopters in overnight.
So I picked up one of the only-recently-released 42000 Grand Prix Racer sets. While I'm not much of a Formula 1 fan (1) (it all seems like one long procession round the track, and the result tends to be fixed by team orders anyway), the set itself was supposed to be pretty good, with new, hitherto-unseen, suspension parts among other things.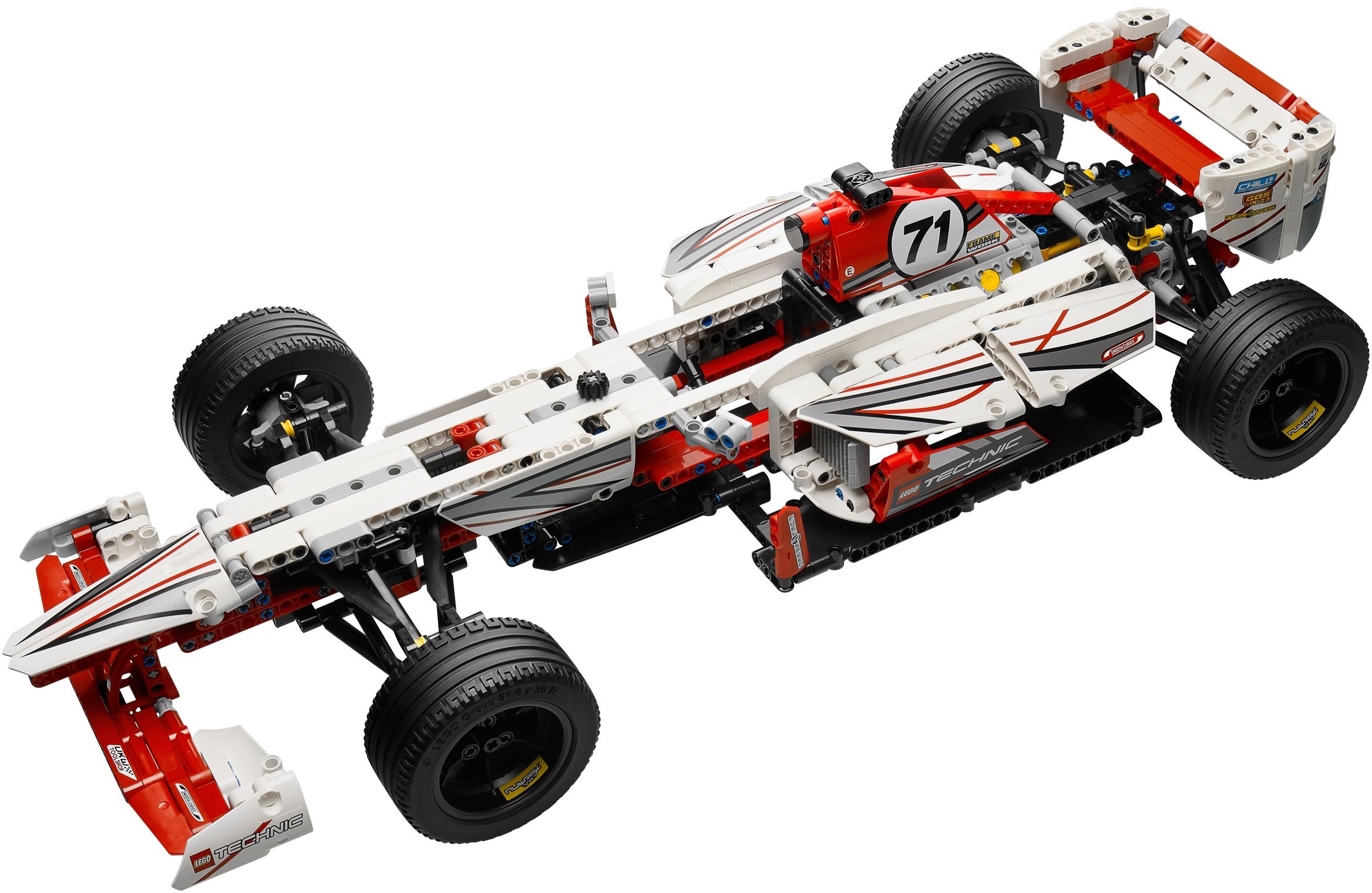 Lego 42000 Grand Prix Racer
At this stage, I was still (laughably) deciding which of the current Technic range I was going to get, and which 'I didn't really want'.
I had a wander round the (now crowded) shop, just to have a another look at some of the things that had caught my eye the previous day. Several times I picked up the Creator series VW Camper Van. I've always loved the actual Camper Vans, although I can't really justify owning one. (Having said that, if I win the lottery, I'll be joining the VW Owners club like a shot), and the Lego replica was a cracking model. However, I was still clinging (mostly) to my 'Technic only' rule (3), so put it down again.
The other thing I had a good long look at was the Architecture series. Some of these sets are fantastic. I particularly like Fallingwater, the Frank Lloyd Wright designed house, and the Solomon Guggenheim Museum, which was also designed by Lloyd Wright (it was his last major work, and he sadly died 6 months before it was completed). However, I do struggle with the prices. The Guggenheim isn't too bad, at £34.99 but Fallingwater, at £74.99 was only £5.00 less than the considerably larger and more complex Grand Prix Racer that I currently had under my arm.
I put the buildings back on the shelf.
With one last idle look at the Star Wars Ultimate Collector Series B-Wing, I joined the queue to pay.
As I'd spent over £25.00, I got my third (count 'em!) Lego City Police Helicopter polybag, and also the Grand Opening Day 3 freebie, which was a set of Watford specific minifigs.
Now I wasn't quite sure what to expect with these, so after I'd paid, I went outside the shop, pulled them out of the bag and had a look.
I think I was expecting the figures themselves to be Watford specific, but other than Elton John, who had been chairman of Watford FC for a time, I was struggling to think of any Watford related celebrities.
Clearly Lego had struggled too, as figures turned out to be a Stationmaster, what appeared to be a Lumberjack, and a boy with a skateboard. The packaging, on the other hand, was printed up with a Lego train arriving at Watford Junction, 'The LEGO Store Watford Grand Opening' printed along the bottom, and a limited edition number on the packaging.
Watford Grand Opening Minifig Pack
I headed home and added my new bag of Lego to the bags that were still sitting there from yesterday. I now had 15 sets, not including all the little polybags.
Ah yes, the minifigs… I think I mentioned picking up 'a couple' a while back, 'to see what they were like'.
I may have picked up a few more since…
(1) If you want to watch interesting racing, where the lead can change several times in the course of a single lap, then you need two wheels, not four. Watch the Moto GP series. We've just (early April) had the first race in Quatar, and it was a doozy!
(2) Let's just say that in the end, there wasn't much that I decided I didn't want.
And I'm still eyeing them up on occasion...
(3) Whoever said 'R2-D2 isn't Technic' can just shut up.